Calcium Booster (Red Cabbage) Superfood
boosts energy
crunchy
mild
new
supports cognitive health
supports immune system
Crispy mild flavor. Grow within 7 days. Vegan, Gluten-Free, Non-GMO. 6 pads.
Contains plenty of ...
Vitamin K1: activates proteins for blood clotting. supports bone and tooth formation.
Vitamin C: for the immune system, energy metabolism, and nervous system. supports cell protection against oxidative stress and increases iron absorption
Folic Acid: homocysteine metabolism, mental function, immune system, reduction of fatigue/fatigue, and cell division
Manganese: to support cell protection against oxidative stress for energy, bone, and connective tissue
Calcium: for bones, teeth, electrolyte balance, digestive enzymes
pad price $2.98
7-days Germination Guarantee. If your seed pads fail to sprout in 7 days, we'll replace them.
6 Pads = 6 oz / 12 servings
Auto-Delivered. Easy, Free Cancellation - Anytime
Your mini red cabbage supports you with ...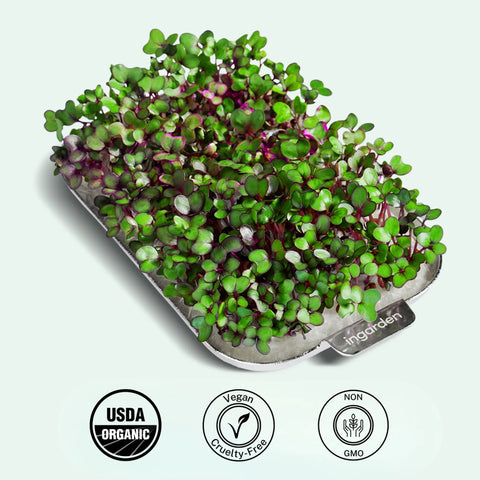 Organic red cabbage superfood facts
What does fresh red cabbage superfood taste like?

They have a crisp, mild taste and are therefore excellent as a side dish and color accent in savory and sweet dishes.

Do red cabbage superfoods have more nutrients than supermarket red cabbage?

Yes! Compared to supermarket red cabbage, ingarden's Red Cabbage Superfood contains:
230% more vitamin A
150% more folic acid
88% more manganese
15% more biotin
see nutrition analysis
harvest over 1000 microgreens every week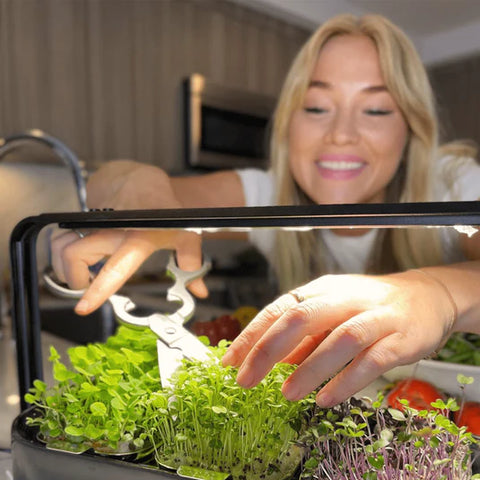 Healthy you, healthy planet
Minimize food waste: ingarden keeps your greens fresh until you're ready to eat them
Reduce plastic: all materials used are recyclable and biodegradable - from packaging to product
Save carbon: we are carbon neutral certified
sustainability at ingarden
FAQ
Which microgreen has which health benefit?
Where do the seeds come from?
What are the seed pads made of?
Do microgreens attract insects?
What do i do with the old pads?
Why do my microgreens grow at different rates and grow to different sizes?
What can I do if I am having issues with seed germination or irregular growth?
Eat more greens, the joyful way