24 Hours - Mini Flashsale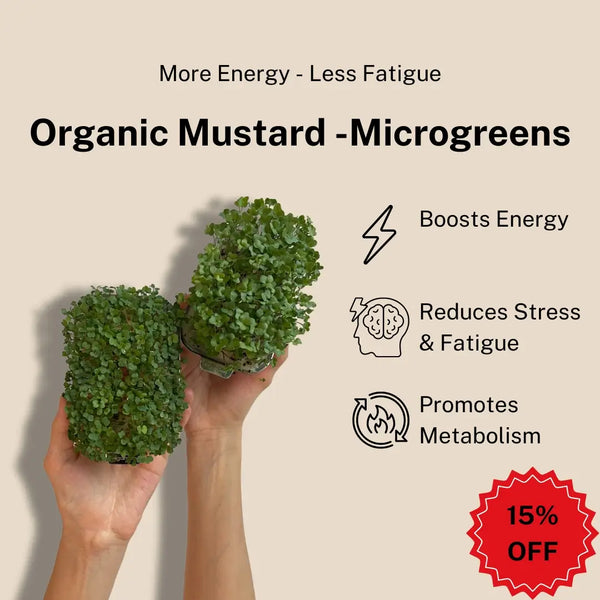 Banish everyday fatigue and boost your performance with our ingarden organic mustard microgreens 🌱🚀.

A fresh hint of nature in every bite. Our hand-picked mustard microgreens are not only a flavor explosion, but also rich in vital nutrients to fuel your body with renewed energy. Whether in your morning smoothie or as a topping for your favorite dish, ingarden mustard microgreens will make your meals not only healthier, but irresistibly delicious.

Be quick, because the offer is only valid for 24 hours and only while supplies last! It's now or never.
Energy Booster: Organic Mustard Superfood
boosts energy
crunchy
new
spicy
supports cognitive health
supports immune system
Crunchy, tangy flavor. Grow within 6 days. Vegan, Gluten-Free, Non-GMO. 6 pads.
Contains plenty of ...
Vitamin B8 (biotin): for energy metabolism, hair, skin, and mucous membranes
Manganese: for stress, energy, bones, and connective tissue
Magnesium: for reduction of fatigue/fatigue, electrolyte balance, energy, and bones
Vitamin K1: for blood coagulation, bone and tooth structure
Folic Acid: for homocysteine metabolism, mental function, immune system, reduction of tiredness/fatigue, and cell division

Choline: for liver, fat, and homocysteine metabolism
Now for 15% off - only for 24 hours and while stocks last!
 CODE: MUSTARD15
pad price $2.98
7-days Germination Guarantee. If your seed pads fail to sprout in 7 days, we'll replace them.
6 Pads = 6 oz / 12 servings
Auto-Delivered. Easy, Free Cancellation - Anytime
Your mini mustard booster supports you with ...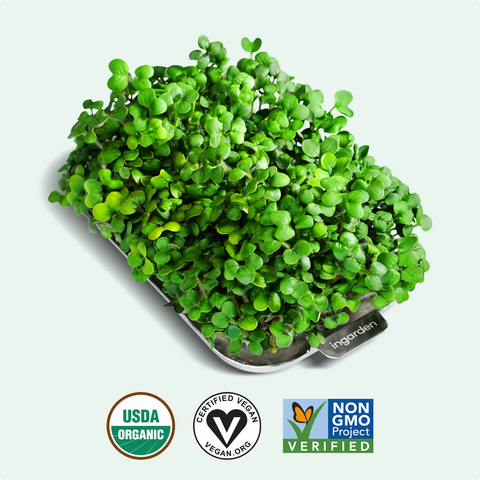 Mustard Fact Check
What does fresh mustard superfood taste like?

The piquant and strong mustard microgreens are a spicy addition to any dish. Their pungency is reminiscent of mustard sauce, only a touch hotter and spicier.

Does mustard superfood have more nutrients than supermarket mustard?

Yes! Compared to supermarket mustard, ingarden's organic mustard microgreens contain:
10% more choline
10% more zinc
see nutrition analysis
Harvest over 1000 microgreens every week






FAQ
Where do the seeds come from and are they organic?
What are the seed pads made of?
Do microgreens attract insects?
What do i do with the old pads?
Why do my microgreens grow at different rates and grow to different sizes?
What can I do if I am having issues with seed germination or irregular growth?
Eat more greens, the joyful way.