Family Pack
crispy
crunchy
earthy
mild
spicy
sweet
Regular price
$161.00
Sale price
$140.00
Unit price
per
Sale
Sold out
Our family pack of microgreens is the perfect way to get your daily dose of vitamins and minerals. microgreens are packed with nutrients and have been shown to improve overall health. So why wait? Get your family pack of microgreens today!
pad price $2.47
7-days Germination Guarantee. If your seed pads fail to sprout in 7 days, we'll replace them.
38 Pads = 38 oz / 76 servings
Auto-Delivered. Easy, Free Cancellation - Anytime
Our family pack is bursting with benefits: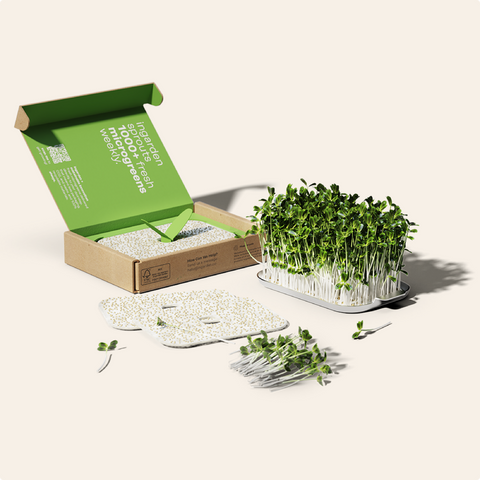 Family pack contents:
1 radish mix superfood (6 pads)
1 superfood mix (7 pads)
1 kale superfood (6 pads)
1 mustard superfood (6 pads)
1 arugula superfood (7 pads)
1 bok choy superfood (6 pads)
buy now






Eat more greens, the joyful way
FAQ
Which microgreen has which health benefit?
Where do the seeds come from?
Do microgreens attract insects?
What can I do if I am having issues with seed germination or irregular growth?
What do i do with the old pads?