Summary
Red Cabbage Microgreens Overview




Microgreens have taken the indoor gardening world by storm, offering a burst of freshness, flavor, and nutrition in compact form. Among the diverse range available, red cabbage microgreens are a delicious and nutrient-packed superfood that can be conveniently grown in the comfort of your own home, all year round. There are numerous compelling reasons to incorporate them into your diet, such as their exceptional health benefits and effortless cultivation. growing these tiny superfoods is a straightforward and gratifying way to enhance your overall well-being and embrace a healthier lifestyle.
written by Mariana, founder of ingarden - 18th of July, 2023
The Nutritional Powerhouse: Red Cabbage Microgreens
Red cabbage microgreens pack a powerful punch when it comes to nutrition. Despite their small size, they are densely packed with an array of essential vitamins, minerals, and antioxidants. These tiny greens are known to contain high levels of vitamins A, B, and K1, which play crucial roles in maintaining a healthy immune system, promoting skin health, and supporting bone density.
Additionally, they are a great source of minerals like magnesium, calcium, and manganese. These minerals contribute to overall well-being by supporting proper nerve function, promoting strong bones, and aiding in the production of red blood cells.
These tiny greens offer more than just their impressive nutritional content. Emerging research suggests that they may provide additional health benefits, making them an excellent choice for promoting overall well-being.
They are rich in antioxidants, particularly anthocyanins and phenols, which contribute to their vibrant color. These antioxidants help combat oxidative stress and reduce inflammation in the body, potentially reducing the risk of chronic diseases such as heart disease and certain types of cancer. Including red cabbage microgreens in your diet can contribute to maintaining a healthy cellular environment.
Moreover, the vitamins, minerals, and antioxidants found can support a robust immune system, helping to fend off common illnesses and infections.
Incorporating red cabbage microgreens into your diet can have a multitude of health benefits. The combination of their abundant antioxidants, vitamins, and minerals may contribute to improved immune function, enhanced digestion, and better cardiovascular health. Furthermore, the presence of dietary fiber in these tiny greens can support a healthy gut and promote regular bowel movements.
Research suggests that the consumption of microgreens may also have a positive impact on weight management, blood sugar control, and overall vitality. By adding these nutritious microgreens to your meals, you can harness their potential to optimize your well-being.
Check out our Nutritional Analysis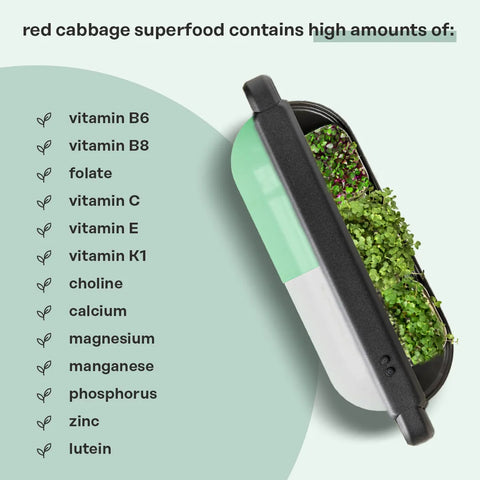 Red Cabbage Microgreens Nutrient Facts
Tender pinkish leaves encapsulate the mild-sweet and crispy flavor.

Contains plenty of ...

Folic Acid: for the immune system, energy, and cell division
Vitamin C: for the immune system, stress and iron absorption
Vitamin K1: for blood clotting, bone, and tooth formation
Calcium: for bones, teeth, electrolyte balance, digestive enzymes
Manganese: for stress, energy, bones, and connective tissue
Cultivation
To embark on your red cabbage microgreen journey, start by acquiring high-quality seeds specifically labeled for microgreen production. Look for reputable seed suppliers or specialized microgreen seed varieties that are suitable for indoor cultivation.
In terms of equipment, you'll need shallow trays or containers with drainage holes, a growing medium (such as soil or coconut coir), and a spray bottle for watering. Additionally, consider investing in grow lights or placing your microgreens near a sunny window to ensure they receive sufficient light.
Preparing the growing medium and containers:
Fill the trays or containers with the chosen growing medium, ensuring it is well-draining and evenly spread. Moisten the medium slightly without making it soggy.
Sowing the seeds and providing optimal growing conditions:
Scatter the red cabbage microgreen seeds evenly over the surface of the growing medium, aiming for a moderate density. Gently press the seeds into the soil to ensure good seed-to-soil contact. Place the trays or containers in a warm, well-ventilated area away from direct sunlight initially.
Caring for the microgreens as they grow:
Once the seeds have been sown, mist the growing medium with water using a spray bottle, ensuring it remains consistently moist. Monitor the moisture levels and adjust watering as needed to prevent over- or under-watering. As the microgreens emerge, gradually introduce them to more light by placing them under grow lights or in a sunny location. Rotate the trays periodically to promote even growth.
While growing red cabbage microgreens can be a rewarding experience, you may encounter some common challenges along the way. Here are a few troubleshooting tips:
Overwatering:
Excessive moisture can lead to mold or root rot. Ensure proper drainage and avoid saturating the growing medium.
Insufficient light:
Inadequate light can result in leggy, elongated microgreens. Provide sufficient light, either through grow lights or natural sunlight, to promote healthy growth.
Pests and diseases:
Keep a close eye on your microgreens for any signs of pests or diseases. If necessary, implement organic pest control methods or seek guidance from local gardening resources.
Tips for Harvesting and Storing
Harvesting at the right time is crucial to ensure optimal flavor and nutritional content. Typically,they are ready for harvest when they have developed their first set of true leaves, usually around 10 to 14 days after sowing.
To harvest, use a pair of clean scissors or a sharp knife to cut them just above the soil level. Aim to harvest the entire crop in one go, or you can trim them as needed over time. Avoid pulling or uprooting the plants, as this may disturb the delicate root system.
To maximize the shelf life and freshness follow these storage tips:
Rinse and dry:
After harvesting, gently rinse the microgreens under cool water and pat them dry using paper towels or a salad spinner. Removing excess moisture helps prevent spoilage.
Storage containers:
Transfer the dry microgreens to airtight containers or resealable plastic bags. Line the containers or bags with a layer of paper towel to absorb any excess moisture and maintain freshness.
Refrigeration:
Store the containers in the refrigerator's vegetable drawer or at a temperature between 35-40°F (2-4°C). This cool environment helps extend their shelf life.
Consume fresh:
Microgreens are best enjoyed fresh, ideally within a few days of harvesting. The longer they are stored, the more their flavor and nutritional value may diminish.
By following these cultivation and harvesting guidelines and addressing any potential issues, you can successfully grow vibrant and nutritious red cabbage microgreens in the comfort of your own home.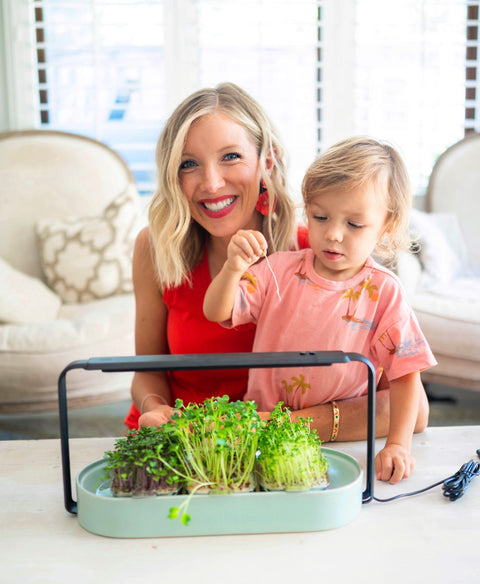 Build your own red cabbage growing kit in 3 steps
Choose your ingarden color🎨 choose what fits your style best
Select your plan📦 buy one-off, on a subscription or in bulk!
Choose your microgreens 🌱go for red cabbage microgreens or find some other superfood that boosts your health and maximizes flavor
build your ingarden
The Culinary Delight: Using Red Cabbage Microgreens
Red cabbage microgreens offer not only exceptional nutrition but also a delightful culinary experience. Their vibrant purple color and mild-sweet flavor make them a versatile ingredient that can elevate a wide range of dishes. From salads and sandwiches to soups and smoothie bowls, they add a pop of color, texture, and a subtle spicy kick to your culinary creations.
Refreshing Salad:
Toss a handful of them into your favorite salad mix for a burst of color and a delightful crunch. They pair well with citrus fruits, creamy dressings, and other leafy greens.
Flavorful Wraps and Sandwiches:
Add a layer of greens to your wraps or sandwiches for an added crunch and a hint of flavor. They complement a variety of fillings, from roasted vegetables to grilled chicken or tofu.
Garnish for Soups and Stews:
Sprinkle them as a vibrant garnish over hearty soups or stews just before serving. They not only enhance the visual appeal but also provide a refreshing taste.
Smoothie Booster:
Boost the nutritional value of your smoothies by incorporating a handful of tiny greens. Their mild flavor blends well with fruits and vegetables, adding an extra dose of vitamins and antioxidants.
They possess a delicate flavor profile that is slightly sweet, reminiscent of the mature red cabbage but milder in intensity. This subtle taste adds a pleasant zing to dishes without overpowering other flavors. Additionally, their vibrant purple color creates an eye-catching presentation, making them an excellent choice for garnishing plates, adding visual appeal, and making your dishes Instagram-worthy.
Experiment with incorporating them into your favorite recipes, and let your creativity soar as you discover the exciting ways these microgreens can transform your culinary creations.
Conclusion
Congratulations! You've reached the end of our journey exploring the wonders of red cabbage microgreens. We've uncovered the nutritional powerhouse that lies within these vibrant greens and learned how to cultivate them in the comfort of our own homes. From their rich antioxidant content to their potential health benefits, these tiny superfoods have proven to be a valuable addition to any healthy lifestyle.
By incorporating them into your culinary creations, you can add a burst of color, texture, and flavor to your dishes. Whether it's a refreshing salad, a flavorful wrap, or a nutrient-packed smoothie, these microgreens are sure to delight your taste buds and elevate your meals to new heights.
Remember, harvesting them at the right time ensures optimal flavor and nutrition. With proper storage techniques, you can extend their freshness and enjoy their benefits for as long as possible.
So, why not embark on your own indoor gardening adventure and start growing microgreens today? Not only will you experience the joy of nurturing these miniature plants, but you'll also reap the rewards of their exceptional nutritional content.
Thank you for joining us on this exploration of red cabbage microgreens. We hope this blog post has provided valuable insights and inspiration for incorporating these delightful microgreens into your indoor garden and culinary repertoire. So, roll up your sleeves, get your seeds ready, and dive into the world of microgreens. Your journey to healthy indoor gardening starts now!
Happy growing and savoring the delights of red cabbage microgreens!
We weren't satisfied with traditional supplements, just disappointed.
So we found something better: Microgreens. this nutrient-rich alternative provides your body with the essential vitamins and minerals it needs and is organically grown without genetic modification or artificial flavors. simply add them to any dish as a source of nutrients and flavor.
Mariana & Christian
Founders of ingarden
Are you interested in more scientific studies about microgreen health benefits?
From the moment I discovered the remarkable health benefits of microgreens in scientific research, I was utterly fascinated. the abundance of nutrients and life-giving properties packed into these tiny plants left me amazed. That's why my passion for growing microgreens at home was born. Our ingardens enable people to tap into the power of these remarkable little plants, experiencing the joy and satisfaction of growing their own fresh and nutritious food.
"Microgreens contain greater amounts of nutrients and health-promoting micronutrients than their mature counterparts."
view scientific paper
"Microgreens garner immense potential for improving the nutritional value of the human diet, considering their high content of healthy compounds."
view scientific paper
"Microgreens have gained increasing popularity as food ingredients in recent years because of their high nutritional value."
view scientific paper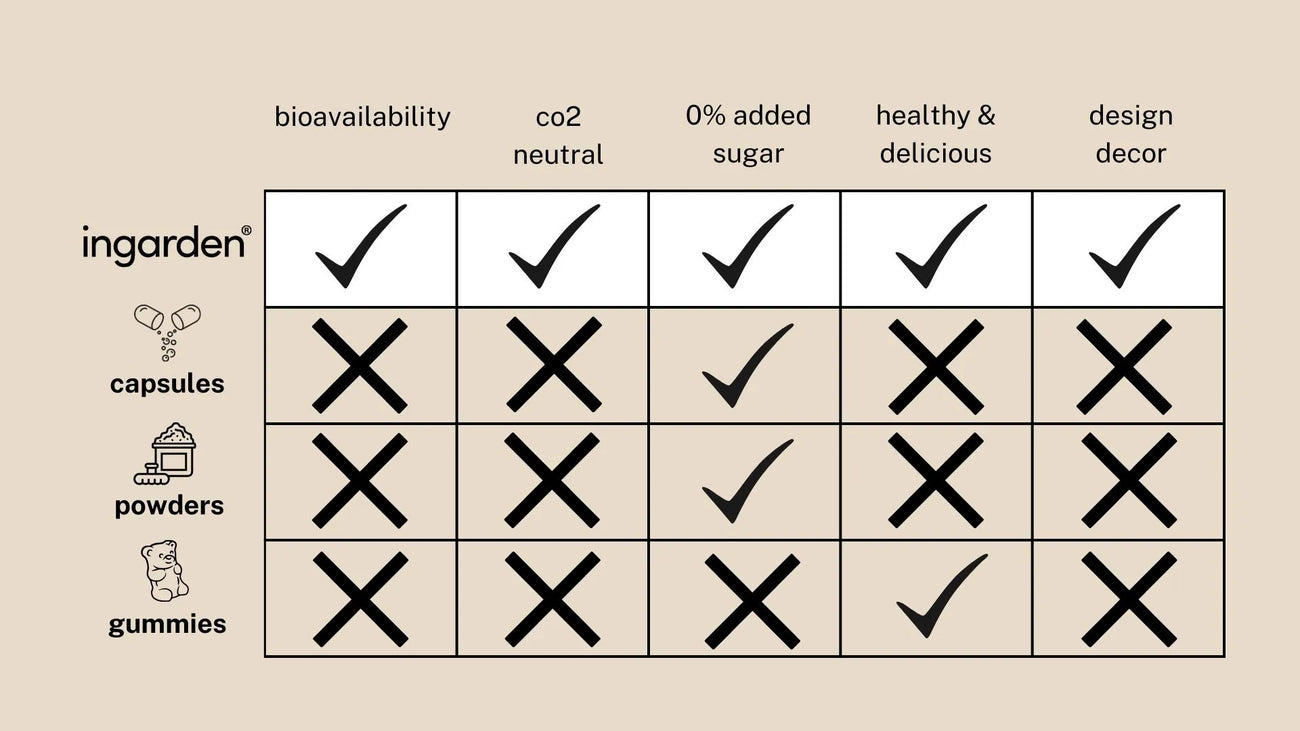 Frequently Asked Questions About Red Cabbage Microgreens
What is the difference between microgreens and sprouts?
Can i replace vegetables with red cabbage microgreens?
What to do with red cabbage microgreens?
What does red cabbage microgreens taste like?
How do you grow red cabbage microgreens?
Grow the Freshest, Healthiest Microgreens any Time of the Year