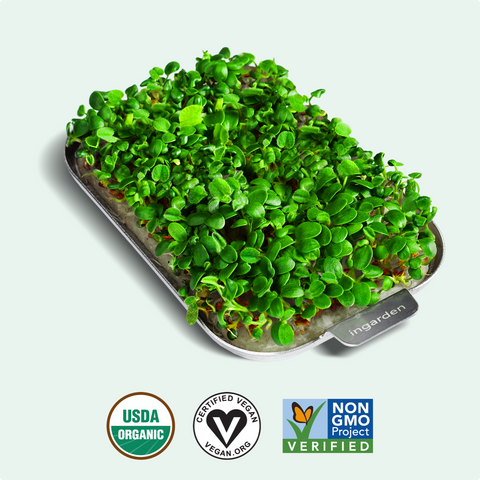 are alfalfa microgreens healthier than full-grown vegetables?
yes! compared to the supermarket vegetables ingarden alfalfa microgreens have:
ingarden alfalfa microgreens are also a good source of zinc and copper. zinc is essential for supporting the immune system, perceiving taste and smell, and assisting protein biosynthesis. copper is important for supporting bone and joint connections and helping with energy production.
get superfoods
alfalfa: healthy or unhealthy? the health benefits of alfalfa microgreens you should know






how do alfalfa microgreens taste?
rich in color yet mild in taste, alfalfa microgreens give that extra boost of nutrients to your smoothies and salads. the greens' nuttiness adds a depth of deliciousness to dishes and delectability when eaten on their own with a simple drizzle of oil or vinegar.
did you know … alfalfa blooms purple flowers and its roots can grow to be over 30 feet (9 meters) long?
get superfoods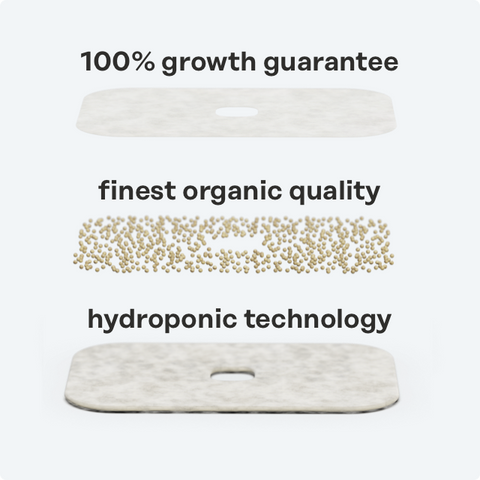 the ingarden difference
the seed pads are specifically designed for ingarden's hydroponic gardening system and grow microgreens in as little as seven days.
made from biodegradable virgin spruce wood fluff fibers, ingarden pads hold the microgreen seeds and deliver a steady supply of water that, in conjunction with the wicks, mimics the process of transpiration pull that occurs in soil-grown plants.
all you need to do is add water once and harvest fresh, organic microgreens one week later.
get superfoods
"the cutting-edge smart indoor garden"

"makes people's lives healthier"

"the best-looking smart garden we've come across"

"accessible, high-impact nutrition"